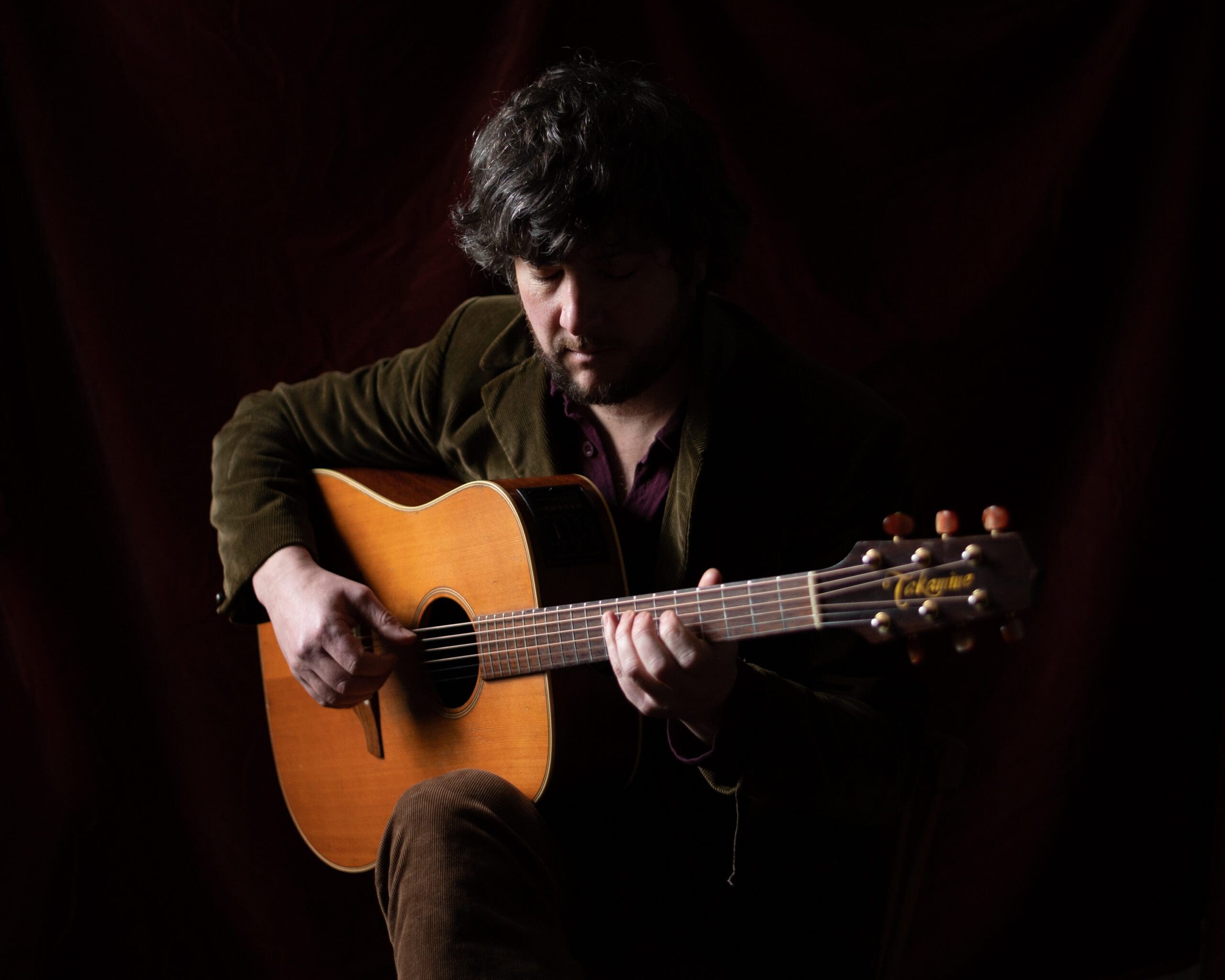 The Gentle Good is the stage-name of Cardiff-born songwriter Gareth Bonello. Gareth draws on the language, poetry and melodies of his native Wales to create beautiful modern folk music in English and in Welsh.
Although not a classically trained musician (he studied Zoology at university) Gareth was taught cello and piano in his youth and taught himself guitar. His intricate playing style has drawn comparisons to the great guitarists of the 1960s folk revival, many of whom had a direct and profound influence from an early age.
The Gentle Good have released several critically acclaimed records, all of which feature the essential twin influences of fiddle player and composer Seb Goldfinch and producer Llion Robertson. In 2011 Gareth and Seb collaborated with the Mavron String Quartet as well as Welsh folk sirens Cate Le Bon and Lisa Jên Brown to write and record Tethered For The Storm. The album received widespread critical praise and was nominated for the inaugural Welsh Music Prize. Later that year Gareth was awarded the Composer of the Year Award at BBC Radio Cymru's RAP awards.
As a performer Gareth is well-travelled and versatile, most often performing as a soloist but sometimes seen with a full band and string quartet. In 2009 Gareth was chosen alongside some of Wales' best traditional musicians to perform at the Smithsonian Folklife Festival in Washington DC. Since then Gareth has performed all over the world, from car parks and bars in Austin, Texas to quayside shows at Festival Interceltique de Lorient, to solo performances at the Forbidden City Concert Hall in Beijing.
His 2013 release and first for Bubblewrap Collective, Y Bardd Anfarwol, was an album themed on the life of the Tang Dynasty poet Li Bai that was, again, nominated for the Welsh Music Prize. it also won the Welsh Language album of the year in the 2015 National Eisteddofd.
His most recent LP release, Ruins / Adfeilion, was released to ever-expanding ripples of critical acclaim in October 2016. The album went on to win the Welsh Music Prize in 2017.
Gareth went on to release a companion EP for Ruins / Adfeilion for Dydd Miwsig Cymru. The 5 track Welsh language EP, Y Gwyfyn was released on CD and Vinyl in February, 2017.
In 2023, The Gentle Good has returned with brand new music, with his new album, 'Galargan;, to be released in September.
The Gentle Good Releases on Bubblewrap…